The African continent is known for its amazing artworks and refined architectural designs. It inspired vibrant minds to integrate solar panels into a building, thereby creating Energy Efficient homes. It is no news that most African countries spend a lot to generate Energy using Diesel-generator, which in turn emits a lot of pollution into the atmosphere. Although team Jua Jamii initially constructed the design, a group of students from different African countries such as Nigeria, Tanzania, and Swaziland as an entry for the Solar Decathlon Africa competition. This is a two-year-long competition organized by the US Department of Energy. It aims at encouraging and helping African students to promote sustainability and meet energy housing needs. It was able to bring 18 teams together from different African Universities, including team Jua Jamii, these teams were to create innovative, energy-efficient building structures.
Innovating Energy-Efficient Structures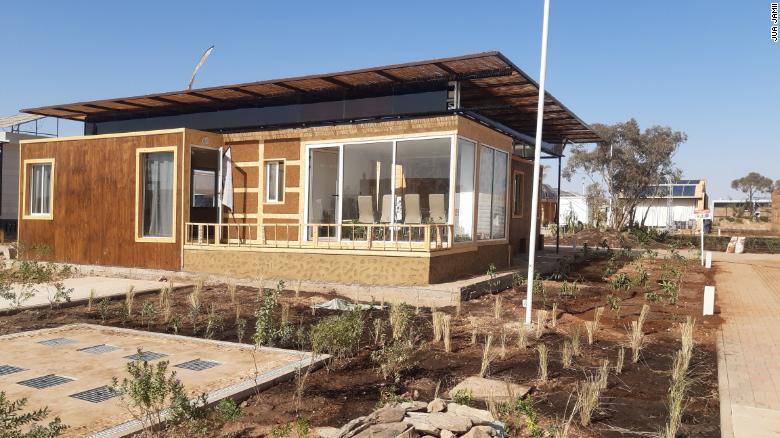 The Jua Jamii house's exterior finishing. http://CNN.Com
The team Jua Jamii now intends to take their innovation further by making it marketable in 2020. So, it expanded from six members to 40 in 2018. They are working together to becoming a startup that uses green and self-sufficient building solutions to combat housing problems in Africa and making houses available to the public. The team comprised young masters degree graduates who play different roles in ensuring that the house was completed, such as project managers, system designers, and architects. They aim to create affordable and Energy-efficient housing for middle-income families in Africa, and equipping these houses with a 24-hour power supply. These middle-income class of people most times are unable to generate energy, which is expensive for daily consumption so, they are left with little or no electricity.
African architecture Inspired
Northern African architecture which is often influenced by Muslim and Christian region, this varies from Tent, domed and cylindrical huts, rectangular homes. More is the brain behind this amazing innovation of energy-efficient building. Sadeu and Donald Abonyi explained that the building is made from recycled shipping containers. This is because they look like an average house and are 100% powered by solar energy, while Northern African architecture was adapted for the exterior. The building has a patio, an open space that allows natural ventilation and improved daylight inside the building, and it doesn't take long to build. The structure can be made in any size based on consumer's choice and request only for those who are interested in this innovation.
Donald Abonyi is a member that serves as the health and safety officer on the team. He said that the group is now creating a business plan, which means that they are considering the marketability, energy production, and the cost of putting the house on the market. "We want to be able to build this house for people and companies interested in our products. We also want to advise construction companies on how to build similar efficient houses," he told CNN.
Conclusion